AUGUSTA, Ga. – Dr. Phillip Coule has been named associate chief medical officer and chief patient safety officer for Georgia Regents Health System. He will work to improve patient quality and safety and clinical effectiveness at the hospitals and practice sites associated with GRHealth.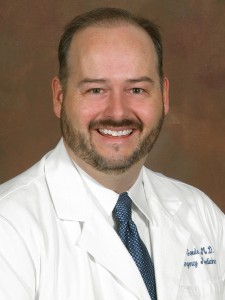 Coule previously served as the vice chairman of clinical and business operations for the Department of Emergency Medicine and Hospitalist Services at GRU's Medical College of Georgia.
"The Affordable Care Act and shift to more accountable health care delivery models have prompted us to rethink existing resources, processes and systems in order to reduce waste and increase the value that we provide to our patients," said Dr. Kevin C. Dellsperger, vice president and chief medical officer for GRHealth and MCG associate dean for Clinical Affairs. "Dr. Coule's efforts in performance improvement have already positively impacted our Emergency Department, and his broad depth of experiences, education and training make him a unique asset to our health system."
An expert in emergency medicine, disaster preparedness and mass casualty triage, Coule is director of the Emergency Communications Center at Georgia Regents Medical Center and medical director for both the Augusta Fire Department and AirLife Georgia 10 helicopter transport services. In addition, Coule serves on the board of directors for the National Disaster Life Support Foundation and helped develop the NDLS training programs used today in the health care industry.
He earned a bachelor's degree in biology from Augusta State University and an M.D. degree from MCG, before they became GRU. He obtained EMT and EMT-1 certification from Aiken Technical College and Augusta Technical College, respectively, and earned his master's degree in business administration from the University of Tennessee.
Coule serves on multiple hospital quality and safety committees and is vice chairman of the board for GRAChIE – the Georgia Regional Academic Community Health Information Exchange – an electronic platform that promotes care coordination and quality through an efficient, meaningful network of health care providers.