As Georgia Regents University prepares for the beginning of a new school year, campus branding is giving the institution a new, and very tangible, sense of identity.
First came the addition of Jag heads on the campus street signs. Then came the rollout of the wrapped buses, which brought GRU and the "I Chose" campaign out into the community. Now, the campus itself is starting to exude the blue and grey of Jaguar Nation.
"It's there to do a couple of things," Dr. Mark Allen Poisel, vice president for enrollment and student affairs, said of the pageantry. "One is to build that sense of community and excitement around the university. And it is also key to our recruitment piece, because I want students, parents and visitors to know where they are whenever they're on tours or walking around on campus."
It also helps those already on campus to embrace who they are, he said.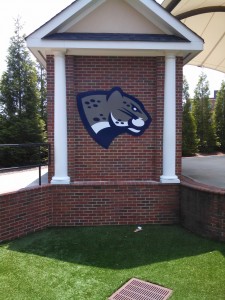 Currently, Jag heads are already up at the D. Douglas Barnard, Jr. Amphitheatre, and by mid-September just about every building on the Summerville campus should be resplendent with some piece of Jaguar pageantry.
The more contemporary buildings, like the Jaguar Student Activities Center, will have modern-looking wall stickers and floor graphics, while the older buildings will have appropriately historic-looking flags and bunting. All, however, will have something that makes it clear they're on the campus of Georgia Regents University.
According to Poisel, having a unified look is particularly important to the new arrivals, who are anxious to feel a sense of pride in their new institution.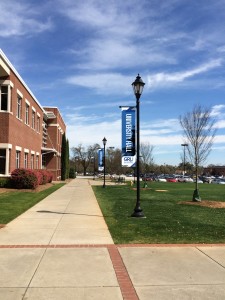 "We're bringing in a new kind of freshman that expects this kind of displayed identity and whose parents expect it," Poisel said. "We have more students coming from out of the area, so they don't know a lot about GRU, but I'd also argue that we've got a lot of people in the area that don't know a lot about the new GRU, so that identity piece is really important."
"I still remember the first time I saw a bus with the 'Success is a Choice' theme 'in the wild'" said Jack Evans, vice president for communications and marketing. "I was rushing between meetings, and feeling pretty stressed out. The bus pulled up next to me, and my mood completely changed. It made my day to know that people all over the area could see that message. In the same way, I think the environmental graphics will amplify the sense of pride and excitement people feel for GRU and really reinforce a sense of place."
Poisel agreed.
"The reality is, people notice it," he said. "If you see 100 people in grey shirts, you notice. If you go into an office and everyone's wearing blue shirts, you notice, and that says something to the community. It makes a presence, and that presence is something people identify with, and that gives a sense of pride."