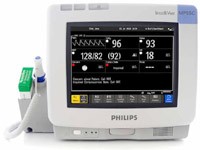 Starting today, the Modified Early Warning System (MEWS) will help care providers on two nursing units monitor and improve a quicker response to patients experiencing acute clinical deterioration.  This early warning system uses vital signs to identify patients at risk. This will promote early detection and prevent a delay in intervention or transfer of the deteriorating patient to a higher level of care.
MEWS is a simple physiologic score which is generated when a care giver takes patients vital signs. The current vital sign machines used on the medical surgical units are capable of generating this score based on a patient's heart rate, blood pressure, respiratory rate, oxygen saturation and temperature. A MEWs score of 3 or greater will trigger an early warning alert to include more frequent monitoring, notify the patient's physician and activate the Rapid Response Team (RRT).
"It's an extra, added protection for our patients that help us identify deteriorating patients early before they become critically ill" said Savannah Agee-Magee, a nurse manager on 4 South.
The system, which is currently being piloted on 6 North and 4 South, is being implemented through GRU's groundbreaking partnership with Phillips and Cerner. Eventually, the entire hospital will be equipped with the early warning system.
"Research shows that oftentimes patients who code display warning signs hours before," Agee-Magee said. "That's why we're implementing the system."
The pilot program is part of phase one of the project which included additional staff training and vital sign machine upgrades. Other phases of the project include uploading vital signs to the electronic medical record and sending automatic alerts to key care providers when the patient's score triggers an alert.  MEWS will help caregivers be even more proactive in their ability to safeguard a patient's wellbeing.
The Children's Hospital of Georgia (CHOG) uses a similar system, called the Pediatric Early Warning System (PEWS).