After a long rollout that included a series of videos chronicling the career-ending injury of former mascot Al E. Cat and the search for his replacement, Georgia Regents University's new mascot, Augustus, was welcomed to Jaguar Nation Tuesday in an energy-filled ceremony at the Jaguar Student Activity Center.
"This is a very important day for Jaguar Nation," said Athletic Director Clint Bryant, who followed his opening remarks by touching on the history of the Jaguar mascot.
Only four universities in the nation are known as the Jaguars, Bryant said: GRU, South Alabama University, Southern University and Indiana University – Purdue University Indianapolis. And though the Summerville Campus has been the Jaguars since the 1930s, it wasn't until 1992 that the school had its first mascot: Al E. Cat. The name, chosen from 250 entries, earned the winner $50.
President Brooks Keel, a graduate of both Augusta College and the Medical College of Georgia, noted the consolidation of the two schools while giving a nod to its binding traditions.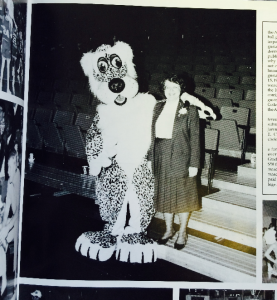 "I wasn't here back in the 30s, but I was here back when it was Augusta College. And it was Jaguar then, it is Jaguar now, and it's Jaguar even bigger than I could have ever imagined as an undergraduate student," he said. "It's bigger than I ever could have imagined as a graduate student of the Medical College of Georgia. It is now the combination of two of the greatest universities around into one university, one Georgia Regents University, and we are all one Jaguar Nation."
Shortly after Keel spoke, Augustus made his big entrance.
Brian Marshall, a marketing specialist with the Division of Communications and Marketing, was instrumental in the creation of the new mascot, which was developed with the help of Weir/Stewart, an Augusta advertising firm. Having actually performed while wearing the innovative new suit, Marshall has a unique insight.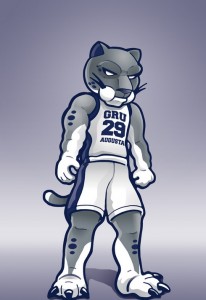 "The first thing you think about when you're going to be a mascot is what the vision is like," he said. "With this suit, there are actually two different places where you can look out. You're not looking 20/20 out of the eye holes, but you're able to see out of those two places, so you can get a better sense of what's around you."
Another unique aspect of the suit is the feet, which he said are worn like slippers.
"You're not covering up your shoe; you're actually putting your foot in there, so you don't have to worry about your foot slipping off, because it's built to keep it there," he said. "I've run in it, I've jumped in it, I've danced in it – you name it."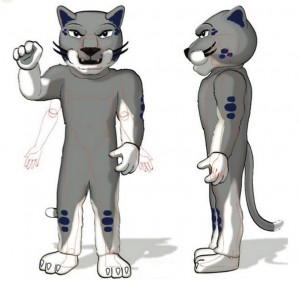 And because many of the larger schools utilize multiple mascot suits, GRU actually has two Augustus suits.
"That way we can do recruiting off campus, but still have him available here for a game," Marshall said. "However, because we want to make sure there's only one Augustus, we have a strategy in place to make sure that if he's going to be on live TV, he won't be performing somewhere else at exactly the same time."
While the design process was intense, it was fun and rewarding for all involved.
"We're pretty proud of him and would like to thank everyone over at Georgia Regents University for trusting us to bring the new mascot for the Jaguar Nation to life," said Alex Wier, creative director at Wier/Stewart. "Going from looking at the sketches to seeing a real Augustus pumping up the GRU faithful has been a very cool experience."
The suit was delivered in late April, which was a little too late in the school year for a proper rollout, so the team decided to wait to officially welcome Augustus until the first week of the 2015-16 school year, though Augustus was busy over the summer filming videos and interacting with students during different orientation sessions.
Photo credit: Phil Jones
Photo credit: Kim Ratliff