At GRU, we're a multi-talented bunch.
We're okay golfers, for one. Sometimes, our professors and our researchers receive national – even international – attention, both for their knowledge and their opinions. Occasionally, we even dabble in saving lives.
But if there's one thing we know how to do, it's jam.
Don't believe us? We'll prove it.
To celebrate Day of Service volunteers, Saturday, Sept. 12 also marks the return of "Jazz at the G" – GRU's one-of-a-kind Jazz extravaganza. This year, things kick off at 6 p.m. at the D. Douglas Barnard Jr. Amphitheatre on the Summerville Campus, an outdoor setting that's sure to be cool even in the Georgia heat.
Last year's season wrap-up was a world class show, but this season promises to be even better.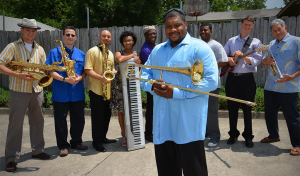 Headlining Jazz at the G season two is none other than Wycliffe Gordon, who is beginning his 2nd year as "Artist in Residence" at GRU's department of music.
In the words of GRU's own Drew Dawson, Station Manager of GPB-Augusta, "with a group of wildly talented musicians, Wycliffe Gordon is going to stretch out, ignoring musical boundaries to bring  a new kind of energy and improvisation to the presentation. This is Wycliffe Gordon cutting loose, having fun  and bringing the audience along for the ride."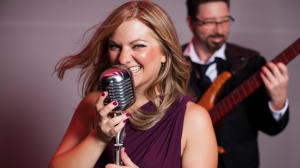 In addition to what's sure to be an out-of-this-world performance by Gordon, attendees of the Jazz at the G season two kick-off concert can also expect stellar performances from both The Mike Frost Band and guest vocalist/jazz saxophonist Lauren Meccia, as well as the introspective and ever-intriguing Travis Shadow Trio.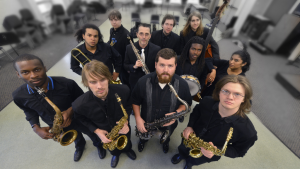 "Jazz at the G" also includes a performance by a contingent of student musicians from The GRU Jazz Ensemble, led by Dr. Rob Foster.
Tickets are now on sale at the Maxwell Theatre Box Office. Admission is $10 for the general public, $5 for children, students and active military and absolutely free for GRU students, faculty and staff with a valid JagCard.
Attendees are encouraged to bring blankets, lawn chairs and picnic baskets, as seating is located on the grass covered terraces of the amphitheater. In the event of inclement weather, the concert will be moved to the Jaguar Student Activities Center Ballroom, located adjacent to original venue.
There is no charge to park on GRU's Summerville Campus for this event. Also, as a reminder, the campus is a designated tobacco-and-alcohol free zone.
"We are excited to bring a second season of 'Jazz At The G' to fans of this  truly American art form on GRU's Summerville Campus," said Dawson.  "Our goal is to make the campus a welcoming destination for local jazz aficionados while providing expanded opportunities for GRU Music students to showcase their talents and share the stage with local, regional and nationally known jazz greats."
Eager to stay in the loop? Use the #JazzAtTheG hashtag to stay up to date with all future Jazz at the G happenings.
Still not sold on our jamming credentials? Then trust some words of wisdom from Gordon himself.
"You gotta be at 'Jazz at the G.'"