The 2015 CMN Hospitals Celebration airs live from the lobby of the Children's Hospital of Georgia from noon to 6 p.m. Sunday, Aug. 23 on WRDW-TV News 12; it will also be streamed live on wrdw.com.

AUGUSTA, Ga. – It's hard to have a positive outlook on life when you've had two dozen surgeries from birth to age 7, but Avery Stoll of Evans is a fighter.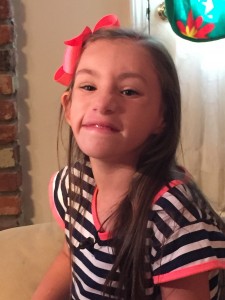 "No matter what she's going through, she seems to take it in stride," said her mother Renee Stoll. "Everywhere we go, everyone just loves Avery. She is such an inspiration."
Avery's spinal cord failed to develop properly when she was in the womb, so she battles spina bifida and a myriad of other maladies, including speech and bladder issues. This bright young girl – who physicians predicted would not survive childbirth – sees 17 different pediatric specialists and still baffles them by how far she's come.
She enjoys camping, karaoke, and swimming, and she bowls and dances from her wheelchair. She has more makeup than the average adult female, and she willingly gives makeovers upon request.
You can hear more of Avery's remarkable story and other miracle stories on Sunday, Aug. 23, as the 30th annual Children's Miracle Network Hospitals Celebration broadcasts live from noon to 6 p.m. in the lobby of the Children's Hospital of Georgia on WRDW-TV News 12. This special event celebrates the funds raised this year by partners and donors to benefit programs and services at CHOG, the area's only children's hospital.
In addition, hospital staff, local volunteers and celebrities from News 12 will man the WOW-provided phone bank, accepting donations for the hospital during the fundraiser.
The CMN Hospitals broadcast will include video tours of the hospital; conversations with patients, donors and staff; and recognition of committed partners and supporters. Viewers also will get a first-hand look at the specialized care found only at CHOG and hear volunteers, supporters, and staff as they recall 30 years of incredible miracles in pediatric care in Augusta.
Telethon officials celebrated more than $906,000 in donations, pledges and fundraising events that took place throughout 2014. Organizers hope to surpass that number this year.
For more information on the broadcast, visit wrdw.com/community/cmn.
To make a donation to the Children's Hospital, call 706-922-5437 (KIDS) or toll free at 866-412-5437 (KIDS), or visit giving.gru.edu/telethon.
The 154-bed not-for-profit Children's Hospital of Georgia is the second-largest children's hospital in the state, providing the highest level of pediatric critical care and neonatal intensive care, as well as a wide range of general and complex health care for children. Donations help fund the many resources needed to enhance and maintain the quality of care children receive – from the smallest bandage to the most precise surgical instrument.
CHOG has been a beneficiary of CMN Hospitals since 1986.
Children's Miracle Network Hospitals® raises funds for 170 children's hospitals across the United States and Canada, which, in turn, use the money where it's needed the most. When a donation is given it stays in the community, helping local kids. Since 1983, Children's Miracle Network Hospitals has raised more than $5 billion, most of it $1 at a time.
These donations have gone to support research and training, purchase equipment, and pay for uncompensated care, all in support of the mission to save and improve the lives of as many children as possible. Learn more at CMNHospitals.org.