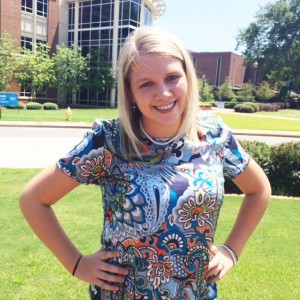 For incoming freshmen, college life can be a little intimidating . Especially for those first-year students adjusting to life away from home.
No need to worry, because  senior Early Childhood Education major Dottie Ryan shares five tips that can help freshmen have a successful  experience at Georgia Regents University.
Get involved: Getting involved is the main thing that made this campus feel like home. So, rather than just going home alone, getting active allowed me to have a better experience my freshman year since I knew I would have sorority sisters and fellow orientation leaders to talk to on campus..
Use your resources: Our campus has a lot of valuable and free resources including Career Services, the Writing Center, the Math Lab, and even the Instructional Resource Center. There is no point in waiting to receive a "C "on your first paper if you know that writing is not your strong suit. Go to the writing center before.
Pay attention to things going on around campus: Make sure that you actually look at the signs posted on campus and do not forget to read the university-wide emails that are sent out. These things have valuable information that could drastically impact your semester. You do not want to be the student who forgets to pay for your tuition and then is dropped from all of your classes. Especially when there are signs everywhere.
Get to know your professors: Not only will this help you if you need a question answered about your class, but professors are the number one resource for research opportunites, mentorships, internships, student jobs, scholarships and recommendation letters. By being more than just another face in the class, they will remember you and you will more than likely receive some much needed assistance in the future.
Actually buy a parking decal: Even if you think you won't need it, buy it. The first ticket may only be $25.00, but the fees increase each time. You have way too many other expenses during college than to worry about constantly paying parking tickets. Just pay $35.
Here are a few more pointers: