The Augusta economy continues to improve. In September, the James M. Hull College of Business' Augusta Leading Economic Index (LEI) increased 0.3 percent from August. The index has increased 4.2 percent from September 2013. This represents seven consecutive months of growth. Employment has followed the lead with the area supporting over 5,000 more jobs in September than in March.
Another way to look at the robustness of the labor market is to examine hires and quits at firms. The Bureau of Labor Statistics reports that the hire rate (new additions to payroll divided by employment) for the southern parts of the United States was 3.8 percent and the quit rate was 2.2 percent.
During the Great Recession the hire rate fell below 3 percent and the quit rate hit 1.4 percent. As the economy improves, not only are firms more confident and increasing hiring, but employees are more confident that if they quit their job they will find another.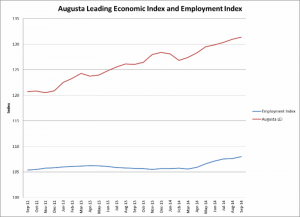 About the Index
The Augusta Leading Economic Index (Augusta LEI) is a monthly composite index that combines several national, regional, and local indicators into a single variable. Leading indexes combine variables that change before business cycle variables such as employment changes. Leading indexes may, therefore, indicate changes that could occur in the economy. Leading indexes are not forecasts or predictions about the future, but may signify future economic activity.
The Augusta LEI may provide local decision makers with timely information about future business cycle patterns in the Augusta area. The Augusta LEI uses economic indicators for the Augusta Metropolitan Statistical Area (MSA), which includes seven counties (i.e., Burke, Columbia, Lincoln, McDuffie, and Richmond counties in Georgia, and Aiken and Edgefield counties in South Carolina).
The index also includes regional and national indicators to reflect that national trends affect the local economy. The index is constructed in the same way that the Conference Board constructs the Leading Economic Index for the United States.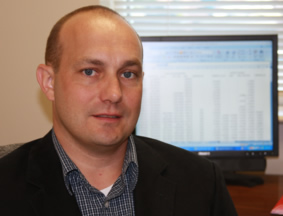 About Simon Medcalfe
Dr. Simon Medcalfe is an Associate Professor of Finance in GRU's Hull College of Business. He earned his doctoral degree from Lehigh University, and he received his master's degree from the University of Leicester.
Medcalfe has authored numerous academic articles and is a former columnist for the The Augusta Chronicle's "Your Business" section.