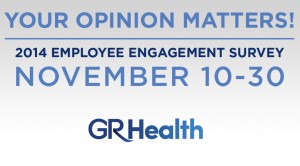 It's time to share your perspective and ideas about what Georgia Regents Health System can do to sustain a positive, productive, inclusive, and effective work environment. The first phase of our annual Employee Engagement Survey will run November 10-30.
This phase includes all employees of Georgia Regents Medical Center, Georgia Regents Medical Associates, and selected Shared Services (Advancement, Compliance, Facilities, HR, OCM, and Supply Chain).
So, tell us: How are we doing? How can we do better?
This survey provides employees with the opportunity to give feedback on the work environment, management, leadership, and organization effectiveness. It should take approximately 15 minutes to complete, and employees are able to complete it during their shift or normal working hours.
There will be contests and drawings for prizes for participants. There will be random drawings conducted throughout the survey administration period. Complete your survey early in order to be eligible to win a prize drawing.
Survey Champions, advocates and champions of the survey, will be available. They are also available to discuss the survey at team meetings. If you have questions, please see your Survey Champion, manager, or call Human Resources at 706-721-9365.